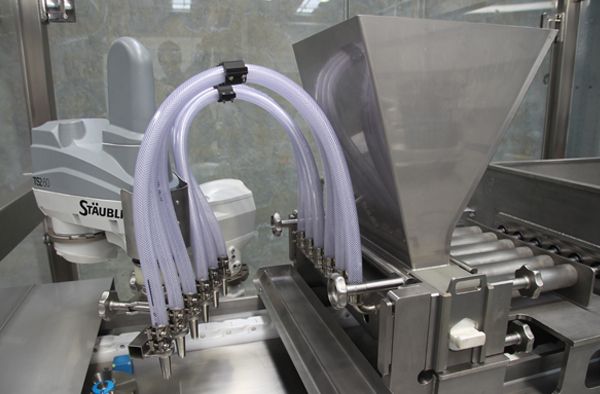 Design and build for robotic potato top pie depositor
Client: Thelning Design Innovation
Industry: Food manufacturing
Project: Provide hardware, advice and training for developing and installing a potato top pie depositor using Stäubli robot technology
CNC's hardware and support ensures success of factory automation project for innovative Kiwi engineering company.
The client: Engineering practice specialising in industrial automation systems for manufacturing
Thelning Design Innovation (TDI) is a Christchurch engineering practice specialising in the optimisation of manufacturing processes using robotic automation technology. Led by Nelson Thelning, TDI is rapidly building a reputation for creating ground-breaking process automation solutions that improve productivity, minimise waste and eliminate repetitive manual tasks.
The challenge: Assist TDI with the design, build and implementation of an automated depositor for potato top pies
Potato top pies are a long-time Kiwi favourite that's produced throughout New Zealand. The process of adding the key ingredient – mashed potato topping – is nearly always manual. It involves strong forearms, a large piping bag and a steady eye. Employees who have the task of piping potato onto the top of pies can only work for an hour at a time, because their arms get too sore and they run the risk of occupational overuse injuries.
TDI's food manufacturing client makes many different types of pastry products, including potato top pies. Their production schedule was seriously impacted by the one-hour limit for topping potato top pies. Every day they could only produce for a limited time before having to halt production, clean up the production room, then set up to produce a different type of pastry. Management recognised the significant efficiency benefits of being able to do an entire day of potato top pies, which led to briefing TDI to design, build, test and implement an automated potato top pie depositing solution.
The TDI/CNC solution: A 100% accurate robotic pie topping depositor
For the potato top pie project, Nelson Thelning was keen to use a Stäubli TS2-60 new generation SCARA robot, featuring Stäubli's unique closed arm architecture and JCM gearbox/motor combination. In the world of manufacturing robots, this model has an exceptional track record.
"The selection of the Stäubli robot was a pivotal direction for us. We wanted a 4-axis SCARA robot, to keep the depositing machine cost effective. There was no point using a 6-axis robot, because we'd be paying for extra axes we didn't need. Stäubli was the only company with a food grade 4-axis robot and we trusted the Stäubli brand – its high quality aligns well with our values."
TDI selected CNC to supply the Stäubli robot and associated Siemens PLC hardware. Training was another factor that pointed to CNC as the ideal partner for this automation solutions project.
"Aside from providing the hardware we needed, CNC provided comprehensive training at the start of the project, which allowed us to implement the equipment correctly and take advantage of all of the utilities and functions offered by the Stäubli robot. CNC's control systems engineering expertise was pivotal for ensuring the success of the project, which we are hoping will lead to similar projects for other manufacturers."
Thelning's engineers used the Stäubli robot to move a six-depositor head over a row of six potato top pies at a time, then extrude a uniformed 'frosty boy' potato pattern onto each pie. The servo axis indexed a large plunger system to push exactly the right amount of mashed potato out of each depositor. A Siemens safety PLC took care of the overall machine supervision and control, including safety functions, while Siemens HMI made it possible for an operator to select various options for the machine.
Key ingredients for TDIs potato top pie depositor solution:
Stäubli TS2-60, a new generation SCARA robot designed for the food industry. This robot was selected for its cleanability and because it has the lowest-in-class risk of dropping contaminants. As additional assurance, the robot uses only food grade oil for lubrication.
Siemens S71200F Safety PLC controller, ideal for increasing flexibility, safety efficiency and productivity on the plant floor.
Siemens V90 value servo drive, which enables simple motion control tasks to be implemented cost-efficiently and conveniently.
Siemens HMI, for user-friendly operation of the depositor solution.
Nelson Thelning reports that the greatest challenge for the project was managing communication between the robot and the PLC controller.
"The PLC has to do a handshake with the robot, then let the robot do its cycle, and then it gets a handshake back. Initially there was too much delay within that communication process, but with CNC's help we solved the problem. We made a lot of potato top pies to get the process perfect - they came in very handy for morning and afternoon teas."
The result: A highly-accurate topping machine that has revolutionised weekly pastry production
As expected, the robot depositor has revolutionised how the client schedules production runs, so their overall output has increased substantially. With the new machine in operation, they can produce a week's worth of potato top pies, operating day and night if needed, then clean up and begin work on another SKU.
In addition to scheduling benefits, the potato-depositing robot is shrinking production costs – a surprise benefit that has made this project a raging success.
"The robotic depositor has reduced product wastage, compared to the old manual production method. It does this by consistently sealing the potato against the edge of the pastry. This ensures the meat filling doesn't boil over and the final cooked product looks attractive. Our client has reduced wastage and ingredient usage by 30%. It's a benefit that goes straight onto their bottom line."
With this project done and dusted, TDI can pursue new food manufacturing clients. The same concept used for the potato top depositor is applicable to dessert pies, icing, cream-filled products, custard-filled products and many other types of ready-to-eat foods. There's also scope to use a Stäubli robot to fill or decorate chocolates and other sweet treats. Basically, any filling, topping or decorating process can potentially be automated with a combination of Stäubli and Siemens technology.
"We want to build on the intellectual property we've developed with the project. With CNC as our technology partner, we're ready to help local food and beverage manufacturers retain manufacturing in New Zealand. Even smaller artisan producers can embrace the efficiencies and accuracy of robotic automation."
Watch a video of the pie topping robot in action.